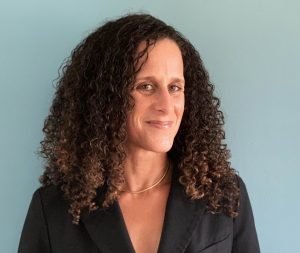 Dear Leve Center Friends,
The UCLA Alan D. Leve Center for Jewish Studies thrives in the nation's number 1 ranked public university, in a global city of 11 million, and in an interconnected world. This is true in times of strength, but no less in times of pandemic and crisis.
We are pleased, in this newsletter, to amplify the Leve Center's impressive and growing international reach as a nursery for scholarship, a laboratory for learning, and a hub for community building in the area of Jewish Studies. Guest artist Eric Sheslow imagines these relationships taking the form of bridges stretching between UCLA's Leve Center and our many partners world-wide—structures that carry knowledge, scholarship, resources, and bodies back and forth, branching out in many directions.
As the world reopened, our faculty affiliates and students were eager to resume their international activities. A sampling hints at our reach. In Paris, Aomar Boum furthered his collaborative research (with Daniel Schroeter) on the actions of the Moroccan Monarchy during the Second World War, also serving as a member of an archeological and historical team working to conserve the synagogue of Akka, Morocco; Lia Brozgal taught a graduate seminar in Avignon, France; in Rome, in the Vatican Secret Archives, Aliza Luft plumbed the recently released archives of Pope Pius XII to explore the Catholic Church's activities during the Holocaust; David Myers conducted research in Haifa and delivered a keynote lecture at the Heidelberg Hochschule für Jüdische Studien; in Berlin, Michael Rothberg joined a workshop on 'the future of monuments' sponsored by the Goethe-Institut and met with scholars, artists, writers, curators, journalists, and activists engaged with questions of Holocaust memory; and William Schniedewind toured archeological sites in Israel with students and lectured at Tel Aviv University.
Our impressive students, meanwhile, received fellowships that carried them to Israel, Turkey, Mexico, Morocco, Germany, France, Germany, and across the United States carrying out language study, field work, archival and library research, and participating in conferences and workshops.
Of course, the world is not evenly peaceable. We watch Russia's war on Ukraine with great anguish, not only for its horrific humanitarian, political, and environmental consequences, but because it is cross-cut with so much Jewish history. A special reflection in this newsletter by faculty affiliate Jared McBride explores these intersections, situating the contemporary war in the poignant frame of Ukrainian, Jewish, and Holocaust history.
Galvanized by the trauma unfolding in Ukraine, the Leve Center was proud to launch an Emergency Ukrainian Graduate Scholar Fellowship, and we are eager to welcome recipient Yevhen Minko from the National University of Kyiv-Mohyla Academy, Ukraine, just as soon as we are able. Extraordinarily, Yevhen is one of three Visiting Graduate Researchers the Leve Center will welcome this year. He is joined by Pei Xiaoxu (Ann), who originally visited UCLA as a Fulbright Foundation Fellow from Nanjing University, China and will stay on as a part of the Stephen O. Lesser Exchange Program; as well as Fulbright Foundation Fellow Ikbale Bouziane from the University of Ibn Zohr, Morocco. These students will benefit from our dynamic courses, community, mentors, and programming—and, no less, will lend us their perspective, insight, and enthusiasm.
Back in Royce Hall, the Leve Center team and I have worked to house and nurture new, collaborative, international research initiatives, including the Haredi Research Group and the Moroccan Jewish Studies' Arabic & French Translation Project, which we describe in the pages that follow. These projects bring the Leve Center into collaboration with new institutional partners, enable the global exchange of ideas scholarship, translation, and the arts, and expand our pool of patrons and friends internationally.
Our engagement with California and the local community is no less precious. A third new, collaborative research initiative housed by the Leve Center, Cal JeMM—the California Working Group on Jews in the Maghrib and Middle East—marries scholars of shared interests from eight universities in California. This year the Hinda and Jacob Schonfeld Boyle Heights Project invited high school students in Boyle Heights to engage artistically with our digital exhibit "Jewish Histories in Multiethnic Boyle Heights"—and, through jury review, awarded three talented students prizes of merit.
As UCLA resumes, we eagerly anticipate meeting the thousands of undergraduate and graduate students who pass through our courses annually—and enriching their classroom learning with Leve Center programming that is integrated into UCLA syllabi.
The Leve Center learned from pandemic that our reach is much wider than we ever imagined. We hope that in the year to come, you will be an active participant in our ever-growing community, whether joining our classes, benefitting from our dynamic programs (in person or online), or by considering a gift to support our efforts. Do make sure you are subscribed to our weekly email newsletter to stay connected and learn of ongoing and upcoming events.
I wish you all a healthy, fruitful start to academic year 2022-2023.

Sarah Abrevaya Stein
Sady and Ludwig Kahn Director, UCLA Leve Center for Jewish Studies
Viterbi Family Endowed Chair in Mediterranean Jewish Studies
Professor of History
Donation from alumnus Alan Leve honors the legacy of his family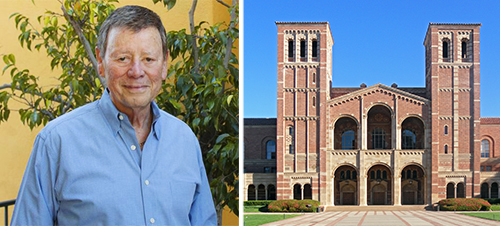 A $5 million gift from Alan Leve, a UCLA alumnus and the founder and president of Culver City, California-based Ohmega Technologies, will establish several endowments at the UCLA College's Center for Jewish Studies. Leve said he hopes the gift, which will benefit students, faculty and the community, will honor his family's legacy of giving — one that started with his late grandmother, Hinda Schonfeld.
Leve still vividly remembers the cold and rainy day in 1941 when he left the Breed Street Shul in Los Angeles' Boyle Heights neighborhood for his grandmother's funeral. He was amazed at the sight outside the car window: rows of mourners standing shoulder to shoulder for three city blocks on each side of the street, umbrellas over their heads, to pay their last respects.
"It's a memory indelibly etched in my mind," said Leve, now 87. "It was a revelation to me. My grandmother had no fame, no material assets of any value; but everyone gravitated to her because of her warmth and generosity of spirit. I realized then that who you are is more important than what you have."
His grandmother's legacy of generosity has lived on through her grandson. In recognition of his gift, the center, which is among the world's most prestigious Jewish studies centers, will be renamed the UCLA Alan D. Leve Center for Jewish Studies.
"The Jewish presence in academic, social and cultural life on the UCLA campus is strong, and Alan Leve's generosity helps to ensure its continued vitality," said UCLA Chancellor Gene Block. "We are proud of the role that the Alan D. Leve Center for Jewish Studies and UCLA — through many other research centers, faculty members, students and public programing — play in the international, national and local dialogue about Judaism."
Todd Presner, the former Sady and Ludwig Kahn Director of the center, said, "Alan Leve's gift will enable us to launch a vibrant public history initiative, support undergraduate and graduate students working in all fields of Jewish studies, initiate programs supporting Jewish life on campus, attract international scholars to UCLA and provide vital research and teaching support to our faculty. This gift will secure UCLA's standing as a preeminent center for the study of Jewish history, culture and civilization."
The gift will be divided into several endowments.
The Alan D. Leve Endowment for Student Excellence will be used to fund graduate and undergraduate students engaged in fields related to Jewish studies at UCLA, including graduate fellowships, undergraduate awards and stipends for student travel and summer research projects.
The Alan D. Leve Endowment for Teaching Innovation will support teaching and curricular innovation in Jewish studies. It also will establish the Etta and Milton Leve Scholar-in-Residence program, which will bring academics from across the world to UCLA and foster international collaborations.
The Alan D. Leve Endowment for Research Innovation will support faculty and graduate student research and provide travel and research grants and conference support.

The Alan D. Leve Endowment for Public History and Community Outreach will support the Leve Center's public programs, courses and community collaborations in Los Angeles.  This endowment will also establish the biennial Leve Award, which will recognize an outstanding leader working within or impacting the Jewish community. 
Leve, who was born in Boyle Heights at a time when the neighborhood was the focal point of Jewish culture in Los Angeles, has also made sure that scholars won't forget that history, nor his grandmother's sense of community. A portion of the gift will establish the Hinda and Jacob Schonfeld Boyle Heights Collection, which, in collaboration with the UCLA Library, will include archival materials and artifacts related to the history of Boyle Heights.
Through the Schonfeld Boyle Heights Collection, the center also will establish a public history program that will include lectures, exhibitions, tours and courses addressing the history of Jewish Los Angeles.
"My parents lived in Boyle Heights from the late 1920s to the mid 1930s and my grandparents from the late 1920s to their passing in the early 1940s, and they were members of the Breed Street Shul," said Leve, who has 13 family members from three generations of his family who have graduated from UCLA: his daughter, Laura Leve Cohen, two nieces and their husbands, and eight cousins.
"We lived two blocks away on St. Louis Street, just south of Brooklyn Avenue, at a place and time when the majority of the Jewish population of Los Angeles lived there," he said. "That period of Jewish presence in Boyle Heights is history now. I'm proud that the center plans to keep it alive through its commitment to programming around public history."
David Schaberg, dean of humanities, said that Leve's gift will allow the center to expand its research and outreach into a community that helped shape Los Angeles.
"The mission of the humanities is to explore the rich legacy of human creativity and thought," he said. "Alan's philanthropic leadership will allow us to study and teach Jewish history and culture in innovative ways so that our students graduate with the ability to thrive as global citizens."
Founded in 1994, the center is the leading research hub for the study of Jewish culture and civilization on the West Coast and one of the largest and most active centers in the world. It is dedicated to advancing scholarship in Jewish culture and history, educating the next generation about the role of Judaism in world civilization and serving as an exceptional public resource for Jewish life and learning.
Leve, who still occasionally visits Boyle Heights to show relatives where the family roots began, can only imagine what his grandmother — whose dying words to her daughter were "give $2 to the poor" — would have said about his generosity.
"We came from very modest means," he said. "I don't think my grandparents or my parents could've conceived of such a gift. For me, this gift fulfills a number of personal aspirations on many levels — supporting my alma mater, investing in education, honoring my Jewish heritage by investing in its future, honoring the memory of my parents and grandparents, and establishing an enduring family legacy."
UCLA RESOURCES
---
COMMUNITY PARTNERS
---
CAMPUS PARTNERS
---
JEWISH STUDIES RESOURCES
---
POLICIES
The views and political positions of speakers, UCLA faculty members, students, and other participants in the Alan D. Leve Center for Jewish Studies are theirs alone and do not represent the views of UCLA or the Leve Center.
The Leve Center supports academic freedom in the fullest sense of the word and does not censor speakers. We do not evaluate or screen speakers, affiliated faculty members, or students with regard to their political beliefs, affiliations, or positions.
The statements on this page represent the views of The UCLA Alan D. Leve Center for Jewish Studies and do not necessarily represent the views of the University of California, or UCLA or its Chancellor